The principal use of Azodicarbonamide is in the production of foamed plastics as a blowing agent. The thermal decomposition of azodicarbonamide results in the evolution of nitrogen, carbon monoxide, carbon dioxide, and ammonia gases, which are trapped in the polymer as bubbles to form a foamed article.
Azodicarbonamide appears as an orange to yellowish crystalline powder, the color of which depends on the particle size. The specific gravity is 1.65, the specific heat capacity is 1.08784j g-1 k-1, the decomposition temperature is 205-215 °c (visual measurement of melting point tube) , non-toxic, odorless, excellent storage stability, self-rest in case of fire and non-combustion. ADC is the most economical and widely used organic chemical blowing agent among all industrial blowing agents. POROFOR ADC is mainly used in the production of closed-cell foamed products because of its good dispersibility, large volume of gas and non-toxic, tasteless and non-polluting decomposition products, the application field of ADC is greatly expanded.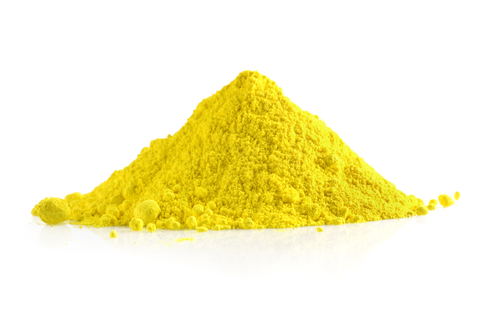 Characteristics
1. Gas Production Efficiency is high. The product has high purity, high gas yield, high performance-price ratio, and belongs to high efficiency foaming agent.
2. Stable quality. The production device has high automation degree, stable product quality, reduce waste, and is especially suitable for use in products with high quality requirements of foaming agent.
3. Complete specs. The product has a particle size range of 3-15 microns and is suitable for a wide range of foaming applications. Five kinds of products with different particle sizes are selected, which can be used directly or modified further to enlarge the application range. L-C2 and M-C1 are especially suitable for low processing temperature or high foaming efficiency when used together with activator.
4. Good dispersion. Products bubble hole fine, uniform; products feel good, beautiful appearance.
5. Use it well. The solid residue after decomposition is colorless, tasteless and pollution-free, and does not affect the appearance and performance of the product.
6. Low dust. LANXESS's proprietary technology, which reduces fly ash, helps improve the user's operating environment.
7. Non-toxic. Permitted in products that come into contact with food.
Specifications

Indicators

Model No.

L-C2

M-C1

S-C2

VPSP

F-C2

Appearance

Yellow powder

Yellow powder

Yellow powder

Yellow powder

Yellow powder

Particle size D50 um

2.6-3.4

3.3-4.5

5.7-7.7

9.5-11.9

13.4-16.4

Gas Emission ml/g≥

220

220

220

220

220

Decomposition temperature ℃≥

200

200

200

200

200

Purity %≥

97

97

97

97

97

Sieve residue %≤

0.05

0.05

0.05

0.05

0.05

Heating decrement %≤

0.15

0.15

0.15

0.15

0.15

Ash Content %≤

0.10

0.10

0.10

0.10

0.10

PH

6.5-7.5

6.5-7.5

6.5-7.5

6.5-7.5

6.5-7.5

Other models can be manufactured by negotiation
Other related items of our company:
1. Hydrazine Hydrate
2. Azodicarbonamide
3. 2-Aminophenol
4. Ferric Chloride Anhydrous
5. Betaine Hydrochloride
Looking for ideal C2H4N4O2 95% 97% Fine AC Manufacturer & supplier ? We have a wide selection at great prices to help you get creative. All the AC Foaming Agent Azodicarbonamide are quality guaranteed. We are China Origin Factory of Azodicarbonamide
AC Blowing Agent
. If you have any question, please feel free to contact us.