2,2'-Azobis CAS No.78-67-1
Product categories of 2,2'-Azobis CAS No.78-67-1, we are specialized manufacturers from China, 2 2'-azobis, 2 2'-azobis 2-(2-imidazolin-2-yl)propane suppliers/factory, wholesale high-quality products of 2 2'-azobis 2-methylbutyronitrile structure R & D and manufacturing, we have the perfect after-sales service and technical support. Look forward to your cooperation!
China 2,2'-Azobis CAS No.78-67-1 Suppliers
2,2'-Azobis Basic Information
Product Name: 2,2'-Azobis
CAS: 78-67-1
MF: C8H12N4
MW: 164.21
EINECS: 201-132-3
Mol File: 78-67-1.mol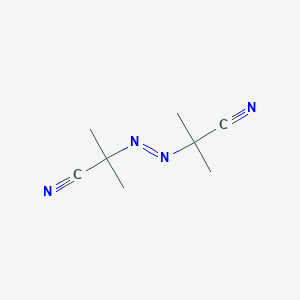 2,2'-Azobis Chemical Properties
Melting point: 102-104 °C (dec.)(lit.)
Boiling point: 281.68°C (rough estimate)
Density: 1.11
Refractive index: n20/D1.495
Fp: 4℃
Storage temp.: 2-8°C
Water Solubility: Insoluble
Stability: Stability Flammable solid. Shock sensitive. Thermally unstable. May be explosive in combination with acetone or heptane. Incompatible with oxidizing agents.