Hydroxylamine HCL CAS No.5470-11-1
Product categories of Hydroxylamine HCL CAS No.5470-11-1, we are specialized manufacturers from China, hydroxylamine hcl cas no, hydroxylamine hydrochloride cas no suppliers/factory, wholesale high-quality products of hydroxylamine hydrochloride molecular weight R & D and manufacturing, we have the perfect after-sales service and technical support. Look forward to your cooperation!
China Hydroxylamine HCL CAS No.5470-11-1 Suppliers
Hydroxylamine Hydrochloride Basic Information
CAS:
5470-11-1
MF:
NH2OH·HCl
MW:
69.49
EINECS:
226-798-2
Hydroxylamine Hydrochloride Structure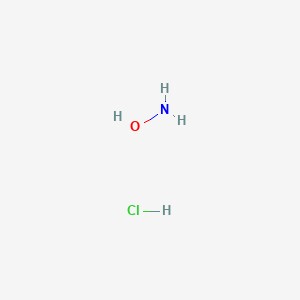 Hydroxylamine Hydrochloride Application
[Use 1]
Used as an analytical reagent and reducing agent, as well as for organic synthesis and color film printing
[Use 2]
Used as a raw material for pharmaceuticals and organic synthesis, as a reducing agent and imaging agent, etc.
[Use three]
Hydroxylamine hydrochloride is an intermediate of guanidinium carbamate insecticides such as methomyl, aldicarb, thiodicarb, and the like, and is also a raw material for preparing 2,6-dichlorobenzonitrile, o-chlorobenzoquinone, and the like. .
In medicine, it is used to produce sulfamethoxazole, danazol, ethinyl estradiol, norethisterone, methyltestosterone, hydroxyurea, and chlordiazepoxide. A synthetic raw material for anticancer drugs (hydroxyurea) and sulfa drugs.
[Use four]
In the organic synthesis industry, as a reducing agent, hydrazines are prepared.
Dyeing blush intermediate.
It is also used as an antioxidant in fatty acids and soaps.
[Use five]
Used in the synthetic rubber industry as a short-term discontinuity agent that is not colored.
Analytical chemistry for the examination of aldehydes and ketone organic compounds and microanalysis of sulfonic acids,
Used as a depolarizer in electroanalysis.
Also used in the production of dyes.
[Use six]
Inorganic analysis of reducing agents, complexing agents, electroanalytical depolarizers, determination of magnesium in steel. catalyst. Swelling agent. Copolymerization inhibitor.